The perfect strap for your perfect watch...
Revolutionary Hemp NATO watch strap
Soft and comfortable design for your treasured timepiece.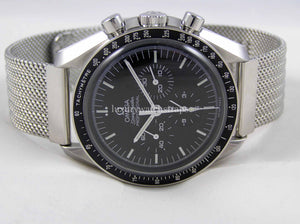 Refined Steel Mesh watch strap on the Omega Speedmaster.
Milanese mesh of the highest quality.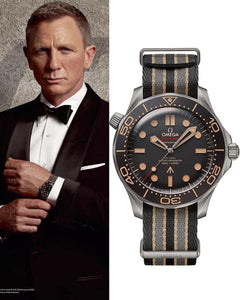 Mr Bond. We've been expecting you.
Stunning "No Time to Die" NATO in 20mm and 22mm sizes.
I will repeat buy for a second watch. This is a very good clasp. I paid
slightly less for a clasp from Watch Obsession and it was less
comfortable because the excess strap didn't loop underneath to protect
the skin from the metal, and the clasp itself popped open far too
easily.

I found it very easy to install a rubber strap onto this clasp, it's
secure and works well and looks good. Very happy!

Al
Beautiful watch! Works perfectly well and of very good quality. The
customer service is great and available for any questions. I recommend
this seller 😁

Chuck
Fantastic quality, and fantastic customer service. Michelle was
extremely helpful as I couldn't make up my mind one which watch this
strap would ultimately end up on, and then I hit the wrong strap size
when I made my decision. She was helpful and responsive throughout my
whole self inflicted drama. That's says it all. I will return to this shop.

Mike